What's New?

Vintage United-Carr Snaps


We have purchased a number of vintage military kits with a trove of United-Carr snaps in them. These kits are fascinating, and have all the original snaps, dies, and press with them. These snaps are what we see on Type A-2 jackets, Naval jackets, and sheepskin B-3 and B-6 jackets. To have these snaps is quite a treat. The commonly seen Anzo snaps were first used around 1905 for automobile canopies, often Model T Fords. Then, in 1932 they were installed on the first A-2 contract by Security Sportswear. These Anzo snaps continue in use through the last A-2 contract by Perry Sportswear in 1943. United-Carr was a prolific company, and contracted with the military for decades.


Click here for more information.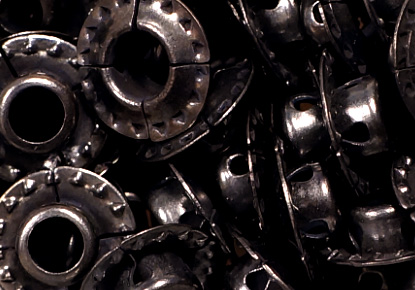 ---
New golden brown wool knits

We have received a shipment of new A-1 and A-2 wool knits in a lighter brown shade, which we call golden brown. These knits are 100% wool and have a perfect weave when compared with originals. We have wanted a lighter shade for a long time, and are happy to now offer this. Lighter shades were often used in certain contracts, like the A-1s, early Werbers, Broncos, Donigers, and several others. Note the photo below, which can be seen in higher resolution.

Click on the image for a larger comparison.
---
Updated A-2 Labels

The Perry Sportswear 16175-P and Rough Wear 27752 labels have been updated. They're now highly accurate copies of original labels, and can be seen below.

Click on the image for a larger comparison.


---
Red Tails

In 2008, Good Wear Leather was invited to produce a number of A-2 jackets for the movie Red Tails. We completed 18 jackets in early 2009, and after a long wait wondering how the movie was progressing, the official trailer has been released. We are excited!

» Red Tails — The Official Trailer
» Red Tails on Facebook

We made the jackets for these characters:


Marty 'Easy' Julian (Nate Parker)
Leon 'Neon' Edwards (Kevin Phillips)
Maurice 'Bumps' Wilson (Michael B. Jordan)
Joe 'Lightning' Little (David Oyelowo)
Ray 'Ray Gun' Gannon (Tristan Wilds)
Walter 'Winky' Hall (Leslie Odom Jr.)
Samuel 'Suicide' George (Elijah Kelley)
David 'Deke' Watkins (Marcus T. Paulk)
Andrew 'Smoky' Salem (Ne-Yo)


Several well-known reproduction companies were invited to make various jackets for the film, so we are one of a number of companies that will have their goods shown on the silver screen. We can say that the costume designer took her job very seriously, and made every effort to reproduce what the Tuskegee Airmen were wearing during their combat tour in Italy.


Here are some photographs that show A-2 jackets that were made by Good Wear Leather:

» Actors on set #1
» Same jacket as above
» Actors on set #2
» Actors on set #3
» Actors on set #4
» Actors on set #4
» Actors on set #5
» Marcus T. Paulk stars as David "Deacon" Williams
---